Last Updated on August 8, 2023
Try Mexican spices if you want a zing in your cooking! Mexican spice mixes are bright in color, bold in flavor, and zesty in taste!
Want more spices? Take out your mortar and pestle, let's take your dishes to the next level!
Now You can make homemade Mexican meals with a modern twist with our guide.
Mexican Spices – QUICK TAKEAWAY
Mexican spices are a combination of spices and herbs that are known for their bold and spicy flavors.
Many spice blends, such as adobo and taco seasoning, can be made at home using a combination of spices.
They are used in a variety of dishes, such as tacos, enchiladas, and mole sauce.
The unique flavors from these herbs and spices have been influenced by a blend of indigenous ingredients and those introduced by Spanish colonizers.
Mexican Seasoning (Spice Blend) – The Authentic Flavor
Mexican foods are known for their bold flavors and traditional home-cooking methods (ex. homemade tortillas).
These seasonings are key to achieving authentic Latin tastes (ex. Chipotle adobo sauce). Chiles bring heat, cumin is earthy, oregano has depth, and paprika is smoky.
These seasoning mixes are also great for marinades and rubs, adding smokiness to the grill, and enhancing the flavor of salsas or chilis.
When cooking Mexican food, it's important to understand the flavor and aroma of each one. This makes a huge difference to control the flavor profile you wish for.
I used them in my Vegan Birria Tacos with Consommé, Vegan Fajitas, Buffalo chickpea wraps, and corn tortillas chips with Vegan Chili (TVP Recipe).
List of Must-Have Mexican Spices and Substitutes
This list of the must-have ingredient list. Experienced chefs and newbies alike will benefit from these seasonings to make culinary creations super tasty:
1. Ancho Chili Powder
Ancho chili powder is the special flavoring! It's not like Cayenne or paprika. The taste of Ancho chili powder is sweet and smoky. Because it's made from dried poblano peppers, which are mild and fruity.
Ancho chili powder is super versatile; you can use it in chili, tacos, desserts, and even Tex Mex paste. Most supermarkets have it in the spice aisle. Pro Tip: Start with a small amount and adjust to taste!
2. Anise Seeds
Anise seeds are a Mexican spice with a sweet and spicy flavor. Perfect for baking! They're also great in dishes like tamales and empanadas.
Anise seed comes from the dried fruit of the anise plant. The seeds are small, brownish-green ovals. The powdered form is popular in Mexican cooking and has a licorice-like flavor.
But, be careful. Anise has a strong flavor. It can be hard to balance with other spices. So, use it carefully.
If you're new to using anise, start with a small amount. Then, adjust according to taste. You won't regret it!
3. Avocado Leaf
The avocado leaf is a Mexican seasoning with a unique flavor and aroma. It brings a delicate smoky taste to foods like stews, soups, and sauces.
This spice comes from the leaves of avocado trees, which are usually discarded during harvesting. It adds an authentic Mexican flavor to your dishes you won't find in any other spice.
To use these leaves, keep in mind they look like bay leaves. You can find them in most Hispanic markets.
Incorporating it into your cooking is a good way to make your dishes stand out. Pro tip: Use fresh ones for the best flavor.
4. Achiote (Paste)
Achiote paste is a Mexican spice that adds a bit of heat and warmth, plus a vibrant hue.
It's made from annatto seeds. This spice is common in Mexican and Latin American dishes. It's used to marinate protein, flavor stews, and color rice dishes.
Pro tip: Use a small amount of Achiote paste in recipes. However, it's powerful, so it's hard to adjust it once added.
5. Cilantro
This is a herb with a light citrus flavor that's popular in Mexican dishes. They are easy to grow, it can also be stored in the freezer. This herb has many uses, from cilantro sauce, guacamole to salsa.
If you're growing your own and make sure your plant lasts. You need to leave the bottom leaves and cut off the top ones.
This way, you'll always have fresh herbs on hand for your salad or salsa!
6. Coriander Seeds
Whole or ground seeds are a spice used in Mexican cuisine. Whole seeds have a citrusy, sweet taste.
The ground powder tastes more earthy and nutty. But use it sparingly; too much and it will overpower the dish. 
Pro tip: Toast the seeds before using. This will bring out their natural oils and flavor.
7. Cumin
Cumin adds an unforgettable aftertaste to sauces and stews. It comes from the seeds of the cumin plant- can be used whole or as a ground powder. It's hard to find an alternative spice with such a unique aroma.
To get the most out of the cumin's nutty and earthy flavor, toast it in a dry skillet before adding it to your dish. This works especially well with recipes that require long cooking times.
8. Garlic Powder
Garlic powder is a versatile spice and provides consistent flavor. This spice is made from dehydrated garlic. Using this powder adds flavor to your meals, with no need to peel and chop.
Fresh ones are always best, but powder is perfect if you're short on time or cooking a lot.
Use it in enchiladas, sauteed chickpeas, guacamole, salsa – you name it!
9. Hoja Santa
Hoja Santa, also known as "the sacred leaf," is a fragrant and floral herb.
It's commonly used in Mexican cuisine to add flavor to dishes like soups, tamales, and mole sauces. 
However, finding Hoja Santa can be tricky. It makes it hard for home cooks to plan to use it in their recipes.
But, it's worth the effort! Its aroma and flavor are unique. If you can't find fresh Hoja Santa leaves, use dried leaves or substitute them with others like mint or basil. They'll give a similar profile.
10. Mexican Allspice
Mexican Allspice is a must-have. It brings a lovely blend of fragrant cinnamon, nutmeg, and clove to your dishes.
It adds warmth, spice, and a hint of sweetness. Plus, you can get it at most grocery stores. Use it in tacos, soups, stews, marinades, and curries. 
11. Mexican Oregano
It is a highly aromatic herb. It has a citrusy scent and sweet, herbaceous taste (very similar to marjoram spice).
This makes it popular for stews, soups, and sauces. Its versatility makes it great for many dishes, like birria sauce and vegan chili.
12. Mexican Vanilla
Mexican Vanilla is a must-have for bakers and pastry chefs. It's top-notch beans and special flavor makes recipes stand out.
But it isn't easy to get. It's usually pricey and not widely available. Still, it's worth it!
13. Onion Powder
When cooking Mexican food, onion powder is a must-have. It adds a savory and slightly sweet flavor to tacos, enchiladas, fajitas, and more. 
Remember always add a small amount of onion powder and adjust to taste. Too much can overpower the other flavors.
14. Smoked Paprika
Smoked paprika actually is a Hungarian spice that is widely used in Mexican cooking. It's made by smoking dried peppers over oak wood.
This makes it char and a bit sweet – great for adding a peppery flavor to taco soup, roast, and vegetables!
FAQs about Mexican Spices
Q: WHAT ARE SOME COMMON MEXICAN SPICES?

You'll find that most recipes call for the use of cumin, chili powder, dried oregano, coriander, powdered garlic, cinnamon, and ground black pepper.

Q: Are Mexican spices hot and spicy?

Not necessarily. Although Mexico is known for its spicy dishes, not all Mexican spices are hot. Some are used to enhance flavor, while others are added for heat. If you prefer less heat, adjust the amount of chili powder, jalapenos or other peppers called for in the recipe.
Q: HOW DO I STORE MEXICAN SPICES?

Mexican spices, just like any other spices, should be stored in an airtight container and kept away from heat and moisture. It's best to store them in a cool, dark place such as a pantry or kitchen cabinet. Proper storage will help retain the freshness, aroma and flavor of the spices.

Q: How are Mexican spices used in cooking?

Mexican spices are used in cooking to add flavor and depth to a dish. For example, cumin is used in chili, while oregano is used in salsa. Chili powder is used in tacos and enchiladas, while cinnamon is used in Mexican hot chocolate.
Q: WHERE CAN I BUY MEXICAN SPICES?

You'll find Mexican spices in most grocery stores, online markets, and specialty stores that stock Hispanic or Latin American ingredients. Look for the spice aisle, or the Mexican or international food section of the store. You can also find Mexican spices at local farmers markets or spice shops.
Q: CAN MEXICAN SPICES BE USED IN OTHER CUISINES?

Absolutely! Mexican spices are versatile and can be used in other cuisines. Try using cumin in Indian or Middle Eastern dishes, or cilantro in Thai recipes. Mexican spices can also be used to add flavor to meat marinades, salad dressings, and vegetable dishes.
Experimenting Your Own
When combine your own spice mix recipe, always tweak the ingredients to suit your preferences and omit the salt at the beginning. Substitute any spices you don't have with ones you like.
Once you add these spices to your diet, you won't want to go back to dull seasonings. Even a pinch and you'll be happy it makes a huge difference in your Tex-Mex dishes.
Store your spice mixes in small jars for easy access and organization. Use a spice grinder to freshly ground your spices to maximize flavors.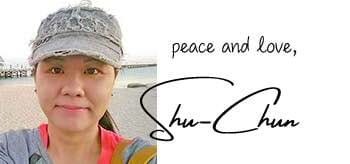 More Food Info You Will Like…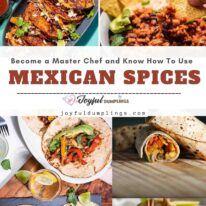 Mexican Spices Recipe (+ Substitutes)
Looking to spice up your cooking with some authentic Mexican flavors? Check out this list of common spices used in Mexican cuisine, plus some substitutes if you can't find the real thing.
Print
Rate
Instructions
When combine your own spice mix recipe, always tweak the ingredients to suit your preferences and omit the salt at the beginning. Substitute any spices you don't have with ones you like.
Sign Up to Joyful Dumplings!
Subscribe to our mailing list and join our community!
Thank you for subscribing.
Something went wrong.