Last Updated on August 27, 2023
What do artichokes taste Like? If you've never had an artichoke, you might be wondering what they taste like. Believe it or not, you're in the right place!
What are artichokes?
An artichoke is a vegetable that belongs to the sunflower family. It is native to the Mediterranean region with a history of over 2,000 years.
The word "artichoke" comes from the Arabic word al-kharshuf, which means "small cardoon."
A 12th-century Arab trade expedition introduced the plant to Europe. Italian cuisine quickly adopted artichokes as one of their most popular vegetables.
What do artichokes look like?
Native to warm climate environments, artichoke plants can grow up to four feet tall and produce flower heads up to eight inches in diameter.
There are many small, edible scales or "bracts" surrounding a central, inedible core on the flower head of the plant.
Their color ranges from deep green to purple, and their exterior is usually spiky and thorny.
You can also eat the leaves of an artichoke although they are slightly bitter. The most delicious part of an artichoke is its heart.
When you're buying artichokes at the store, always look for ones that are heavy for their size and have tight, compact leaves.
You need to stay away from wilted or broken artichokes.
Where do artichokes come from?
According to early records, artichokes are native to the Mediterranean region. Sicilians grew artichokes at least as early as the ninth century.
Today, many countries around the world grow artichokes, including the United States, Italy, Spain, and France.
Interestingly, California produces the majority of commercially grown artichokes in the United States. In fact, the state of California produces more than 80% of the world's artichokes.
This is no surprise—California has the most ideal climate for growing artichokes, with cool winters and warm summers.
What Do Artichokes Taste Like?
You might be wondering what artichokes taste like if you've never had one. Here's a quick guide to the flavor of artichokes.

Artichokes have a distinct, slightly nutty flavor. They're also quite earthy, with a slight bitterness.
Some people compare the taste of artichokes to that of Brussels sprouts or asparagus. Personally, I find the texture and flavor to be similar to bamboo shoots.
Love them or hate them. They are a healthy food despite the fact that the flavor of artichokes may not appeal to everyone.
How to store artichokes?
Storing artichokes may seem like a daunting task, but with these simple tips, you'll be a pro in no time!

First, artichokes should be stored in a cool, dry place. If possible, store them in the refrigerator.
When storing artichokes in the fridge, make sure to wrap them tightly in plastic wrap or place them in a sealed container.
Second, artichokes should be used within a week of being purchased. If you need to store them for longer than that, they can be frozen.
To freeze artichokes, blanch them first by boiling them for two minutes. Then, drain them and place them in a freezer bag. Artichokes will stay fresh in the freezer for up to six months.
Third, when it comes time to use your stored artichokes, they should be cooked before eating.
How To prepare artichokes for eating?
There are many ways to prepare artichokes.
You can steam, boil, bake, or grill them. These vegetables are excellent sources of fiber and vitamins C and K and are great as appetizers or side dishes.
To prepare an artichoke, first trim off the stem so it's about two inches long. Cut off the top quarter of the bud, then use a spoon to scoop out the inner choke and hairy fibers.
Rub the cut surfaces with lemon juice to prevent browning, then boil or steam the artichoke for 25 minutes. Serve with dipping sauces or vinaigrette.
artichoke recipes
If you're looking for delicious and healthy vegan artichoke recipes, you've come to the right place!
These recipes are sure to please, and the best part is you can use either fresh or canned artichokes. Plus, they can all be made ahead of time and frozen for later.
Roasted Hearts of Palm and Artichoke combines hearts of palm and artichoke with olive oil, garlic, lemon juice, salt, and pepper. An easy vegan side dish.
This creamy and flavorful Vegan Spinach Artichoke Dip made with silken tofu offers a vegan twist on the classic appetizer.
This vegan dip is also nut-free and has an oil-free option. 
Creamy Tuscan Spaghetti Squash with sun-dried tomatoes, artichoke hearts, and spinach. Paleo, keto, low-carb, and vegan healthy side dishes!
This Lemony Artichoke and Quinoa Salad is a light and refreshing summer salad that holds up well in the refrigerator and is perfect for meal prep!
The most amazing roasted artichokes recipe. They're easy to make, full of big and fresh flavors, and always a crowd fave!
If you're looking for a fast and easy vegetable side dish that is sure to impress, look no further than these 15 15-minute lemony Grilled Artichokes
7. Braised Artichoke Bottoms
Sometimes, the simplest is also the best.
Using the air fryer to prepare whole roasted artichokes will save you time without sacrificing flavor.
Final thoughts
What do artichokes taste like? The best way to answer this question is to try them out for yourself. They are a unique and delicious vegetable that can be enjoyed cooked in many different ways.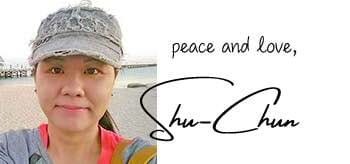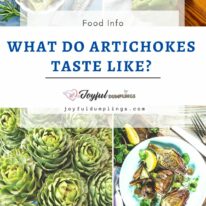 Vegan Artichoke Recipes
If you're looking for delicious and healthy vegan artichoke recipes, you've come to the right place! These recipes that are sure to please, and the best part is you can use fresh or canned artichokes. Plus, they can all be made ahead of time and frozen for later.
Print
Rate
Ingredients
Instructions
Pick you favorite recipe from the list above and follow the instructions. Enjoy!
Sign Up to Joyful Dumplings!
Subscribe to our mailing list and join our community!
Thank you for subscribing.
Something went wrong.